Ara Beauty Therapy Students "Bestow" New Client Experience
Last week Ara institute of Canterbury's Beauty Therapy students baked assorted items from the skincare brand Bestow's recipe book and various beauty products.
As part of their Anatomy and Physiology with Nutrition course, the students joined Adele Hingston, a patisserie chef from Ara's hospitality and tourism management department, in the kitchen to prepare peppermint slices, chickpea chips and chia seed puddings supplemented with Bestow flaxseed oil, beauty powder and gut love powder.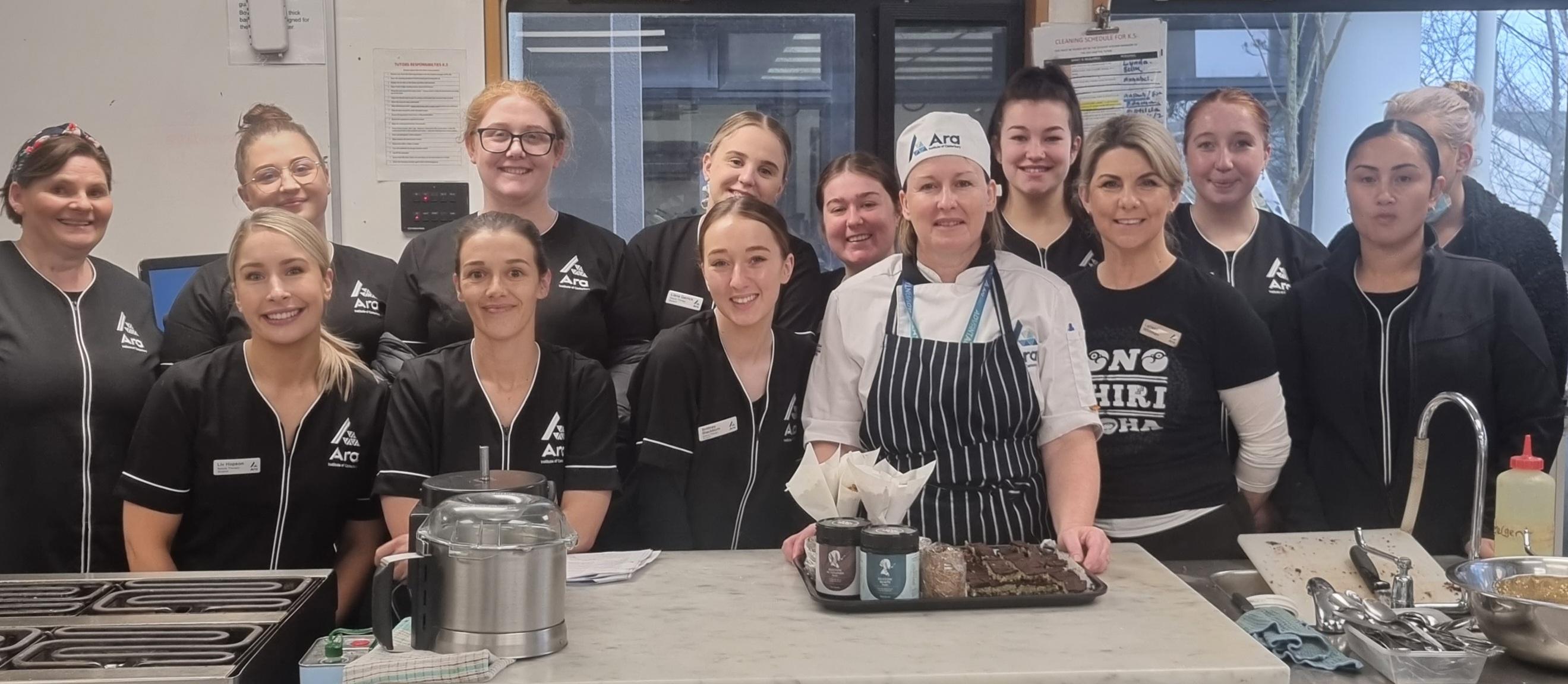 Level 5 Beauty Therapy Diploma Students with Patisserie Chef Tutor Adele Hingston (left) and Beauty Therapy Tutor Larissa Whitman (right)
Founded by Janine Tait, a dermo-nutritionist and skincare therapist, Bestow is dedicated to creating products and recipes with skin health in mind. Ara's beauty therapy students had also been taking part in Bestow University, which is a free, online video training series that helps students understand the holistic approach of working with skin.
Ara beauty therapy tutor Larissa Whitman says that nutrition is a big part of what the student's study and it's important for them to understand that beauty is not just skin deep.
"With your skin being the largest organ in your body, you really need to enhance that from the inside out with all your essential fatty acids and nutrients your skin needs."
"I really appreciate Adele giving up her time when she could be marking. It's such a good collaboration and a wonderful way to show the students something different," says Whitman who had discussed the idea last year with Hingston who was very happy to help.
She wanted her students to not only see that there were other pathways beauty therapy can lead to, but also how they can further contribute to the client experience if they decided to open their own clinic.
Hingston says "I helped the students create these products so they could understand that it would put them ahead of other beauty therapists if they presented their clients with an inviting treat after their treatment and supply the client with the knowledge of how the product can help with health benefits."
The demand from employers is high for well-trained beauty therapists who have a willingness to learn and the ability to create a memorable client experience. At Ara, the Level 5 New Zealand Diploma in Beauty Therapy enables students to gain the skills to become a highly qualified beauty therapist with the knowledge of a range of different treatments and the expertise to open their own beauty clinic if they choose to do so.