Double milestone for Ara's first Master of Nursing
Brigid Sinclair adds Nurse Practitioner to her impressive qualifications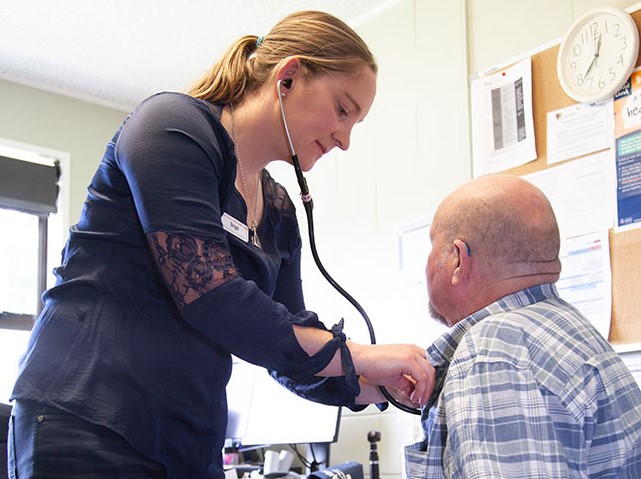 Enormous dedication to work and study leads to success for Brigid Sinclair: Credit Cathy Dee Photography
When Brigid Sinclair observed nurses working in a small-town practice while on study placement, she knew she wanted the best possible qualification to ensure she could make a similar difference in people's lives.
A few years on she's achieved exactly that and broken new ground in the process. After continuing to study while working, not only is she the first Master of Nursing graduate from Ara | Te Pūkenga, Sinclair has now also achieved Nursing Council of New Zealand (NCNZ) Nurse Practitioner status.
All this while working in a rural setting similar to the one that inspired her - making the difference she'd hoped to every day.
"I often think back to those nurses working so hard in Reefton with only a locum GP visit once a week. My heart really connected with working in this environment after seeing their incredible work," Sinclair said.
Sinclair began her studies at Ara in 2010 with Bachelor of Nursing. She began a post graduate diploma in Health Practice (Registered Nurse Prescribing) in 2018 to become a Rural Nurse Specialist, and then set her sights on becoming a Nurse Practitioner.
According to NCNZ, nurse practitioners work as lead healthcare providers and have legal authority to practise beyond the level of a registered nurse. They work in partnership with health consumers to provide a wide range of health care services including the diagnosis and management of both common and complex health conditions.
The role includes performing assessment and treatment interventions, ordering and interpreting diagnostic and laboratory tests, prescribing medicines and admitting and discharging patients from hospitals and other healthcare services or settings.
Sinclair submitted her nurse practitioner portfolio late last year and began preparing for this week's rigorous panel interview with the Nursing Council. She heard immediately afterwards that she'd been successful.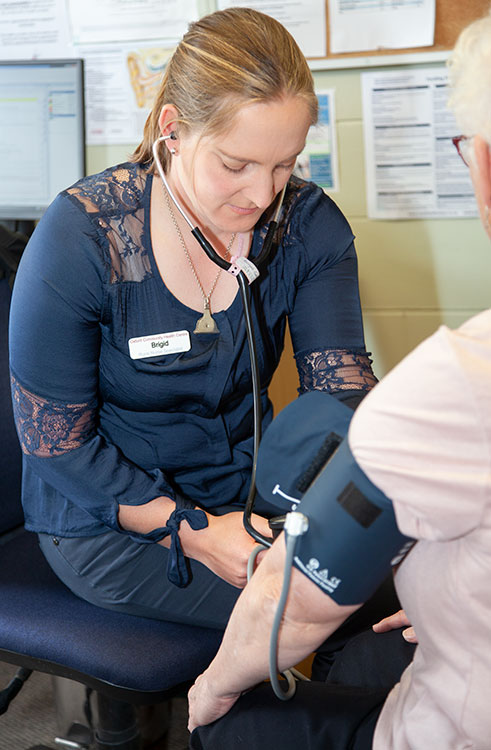 Brigid at work at Oxford Community Health Centre: Credit Cathy Dee Photography
Although the achievement is yet to fully sink in, she said she's proud of what she's accomplished.
"I was nervous going through it, but the panellists were great and did their best to put me at ease," she said.
Sinclair's skill set is already highly valued at the Oxford Community Health Centre where she's worked for seven years, serving 4300 enrolled patients, alongside two GPs and one other nurse practitioner.
Looking back on her study journey, she remembers being quick to act when Ara first began offering postgraduate education in 2018.
"I'd taken a year off and then I jumped back in to do my master's through distance learning while working," she said, describing herself as driven and keen to push limits. "I'm also service orientated and like helping others, so I guess they are the main reasons I wanted to upskill."
Ara | Te Pūkenga Department of Health Practice Nurse Practitioner pathway coordinator Dr Kate Norris said Sinclair is a highly skilled nurse with a real passion and commitment for providing quality primary health care – and the department is thrilled with the double milestone.
"She has worked extremely hard throughout her master's degree," Norris said, noting that wrap-around support for students was vital. "We are fortunate to have a team of experienced and dedicated nurse practitioners and lecturers who teach and mentor our interns, but Brigid has also been fortunate to have had the support and mentorship of a genuinely collaborative team at Oxford which is particularly important during the final practicum year of the degree."
Norris said they are seeing steady growth in the number of registered nurses enrolling in the Master of Nursing programme and seeking advanced nursing roles in the primary healthcare sector.
Sinclair said she felt at home studying with Ara.
"Along my journey there have been opportunities to go elsewhere but knowing the people, the programmes and the excellent learning environment has always encouraged me back," she said. "Real-world experience as you go prepares you well for practice."
In addition to working and studying, Sinclair contributes to her profession in other ways. She has run a peer support group for nurse prescribers with membership spanning from Auckland to Dunedin. The group hosts guest speakers, reviews cases and troubleshoots scenarios encountered in practice. She also contributes to the New Zealand Cardiac Network and a Pegasus Health advisory group.
But it's her day-to-day practice which provides her with challenge and reward and fills her with pride in her chosen career.
"If we work to the top of our scope the potential for helping people is huge," the newly minted nurse practitioner said.