Student of Wellbeing now a wellbeing professional for students
After studying at Ara | Te Pūkenga, Emmi Walden-McLean has found her happy place working in wellbeing on campus.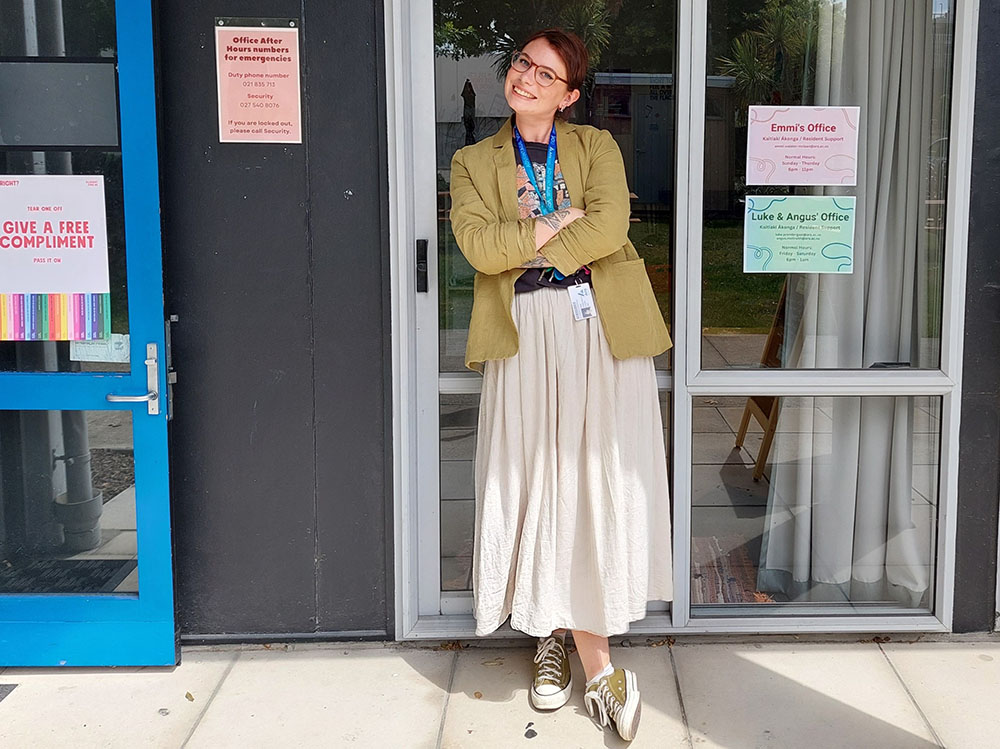 Emmi Walden-McLean has turned her experiences into a skill set.
When she signed up as a student at Ara | Te Pūkenga last year, Emmi Walden-McLean never imagined her first job beyond study would be right back on campus helping students.
The 26-year-old aced her New Zealand Certificate in Health and Wellbeing (Social and Community Services) (Level 4) course specialising in Mental Health and Addiction Support, achieving a straight A+ record and taking the role of student rep for her class.
On the very last day of her course at Ara she interviewed for a Kaitiaki Ākonga (Resident Support) role at the student accommodation Ōtautahi House and felt a perfect fit for the job.
"This is exactly what I was hoping to find. It feels so right and I'm just super proud to be here - which is new feeling for me in a job," Walden-McLean said, adding that being on hand to help students blossom is what she is looking forward to most.
Ōtautahi House, on the corner of St Asaph and Madras streets, offers rooms for up to 192 students in five blocks of purpose-built, shared flats. It has live-in manager Dayne Ngatuere at the helm, with third-year students Luke Prendergast and Angus Mcilraith in residence in Kaitiaki Ākonga roles and now Walden-McLean joining the team with her expertise in wellbeing. Meredith Harrison holds the key role of office and admin support.
"It's great to have Luke and Angus back and we're so lucky to build on the team from last year with Emmi," Manger of Student Transition Heather Clark said. "It's fantastic to see her progressing her career post-study with us. She brings her wellbeing skill set as well as life experiences and insights as a recent learner to the table. She's a great addition to help ensure the Ōtautahi House whanau have an awesome residential experience." Clark added.
Ngatuere said Walden-McLean had also taken on maternity cover for the Community Development position at Ōtautahi House and she's hit the ground running.
"Emmi has lots of ideas and passion for the mahi and we're very excited to have her in the mix in terms of vibrancy, events activities and communication with residents," Ngatuere said as more students arrive for the year every day.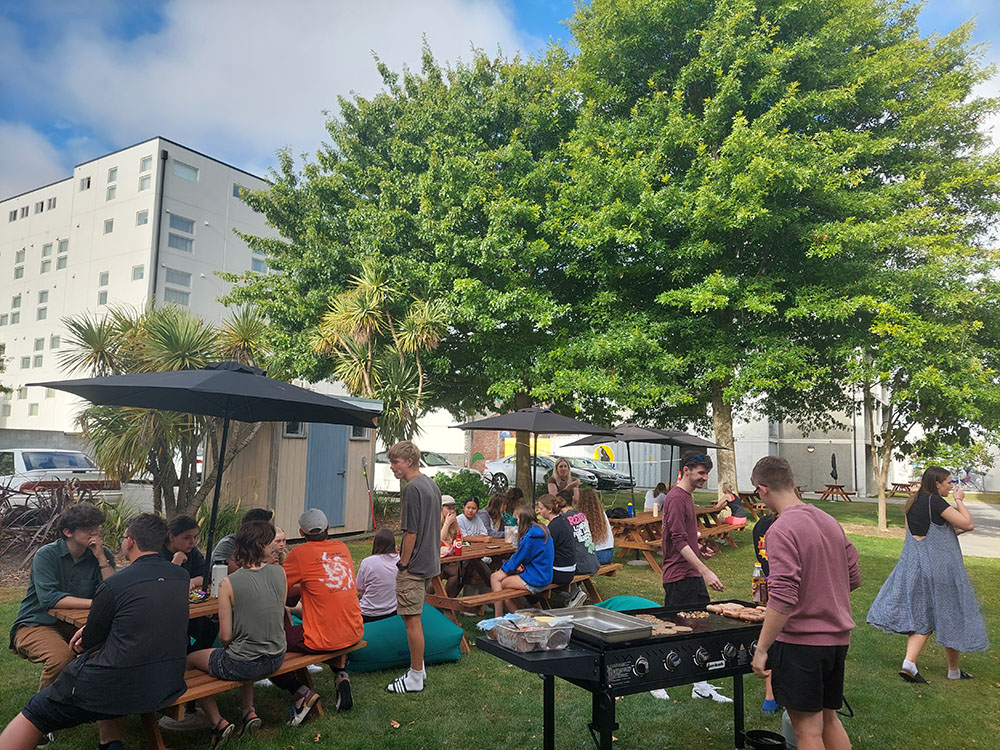 Students starting to arrive at Ōtautahi House enjoy a Sunday night BBQ
Walden-McLean's path to Ara started with a Mental Health Advocacy and Peer Support (MHAPS) workshop during a tough three years of unwellness with anxiety and depression. When she noted that most of the tutors in the recovery group had done their Health and Wellbeing Certificate it started her thinking that her experiences could also be turned into a skill set.
She also has the knowledge of what a lack of student support feels like – something she experienced first-hand while studying elsewhere in the country.
"It's just really sad when people sign up to a start a new path or to change their lives and, for whatever reason, it can be easy for them to disappear off the books," she said. "If I can harness and utilise the things I've gone through and be involved with providing better - that would be great."
Each flat at Ōtautahi House has a student representative for regular meetings with the team to ensure residents have a strong voice in its running. But with weekday office hours from 3pm-11pm, Walden-McLean's aim is to have her own regular 'check-ins'.
"I'm a critical thinker and problem solver and feel the drive to want to help people, with their consent, to find solutions as much as I can. I'm personable and I'm hoping students will feel safe to approach me and form trust."
She says in her experience, a quick talk can make an enormous difference when stress or worries begin to arise. She's seen it work for others too.
"It's easy to underestimate the power of reaching out," she said. "I get that it can be hard to tell people that you're struggling sometimes, but they can't help unless they know. I'd say try your best to reach out because when you do it pays off."
Walden-McLean says sharing a problem can help in two ways – by both easing the worry and allowing the opportunity for something productive to come out of the conversation.
With a voice of experience and the skills and instincts to help others,she's in a great position to help students new to Ōtautahi House feel safe and well at home.