During her time at Te Kura Kaupapa Māori o Te Whanau Tahi secondary school, Shady McGregor Pākau had visited Te Puna Wanaka at Ara several times for various events. Her familiarity with the institute was a big factor in her decision to study at Ara.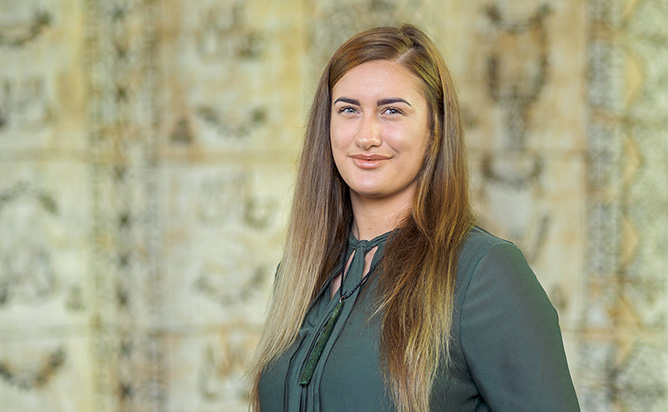 "Because of this connection I knew it was where I needed to be," Shady says. "It was a place I was familiar with, a place I knew, and more importantly, a place where I felt comfortable."
Initially Shady was interested in studying medical imaging, but limited numbers in that programme led her to enrol for a diploma Māori language and culture. "It wasn't my first choice of study but it turned out to be the right choice for me, even though I didn't know it at the time."
After completing the diploma, Shady progressed to the Bachelor of Māori Language and Indigenous Studies. She says one of the most important aspects of the programme was its emphasis on values.
"The values of aroha – love; manaakitanga – care and support; whanaungatanga - connection and relationships, and last but not least, rangatiratanga - leadership, are entrenched into the programme and all that you do. You live and breathe them. Without these values, my journey of learning, growing and connecting would have lacked meaning and purpose for what I was doing and why I was there."
Shady is grateful to her tutors for their support and motivation. She says they were always ready to adapt, and their deep, practical understanding of the course content made for a rich learning experience. "I can't thank the tutors enough for the way they've nurtured my learning," she says.
Shady is passionate about Māori language and culture and keen to realise its potential in furthering society. She feels it can be a used as a healing tool for people who may have slipped through the cracks. "When we want to help someone it's important not to brush over the surface but to always look deeper, to pursue the true meaning, the underlying potential and to find the essence of what might be."
In terms of her own development, Shady believes her time at Te Puna Wanaka played a big part in shaping who she's become. "I started this journey very much still a girl with a lot of uncertainty and left as a woman with an open mind, knowledge and strength."